I didn't take a picture this week, so I'll just put that out there now. Maybe I'll feel motivated to next week...
I've been going through moments of total overwhelm-ment lately. I was in the nursery just a bit ago and began panicking at the lack of nursery that existed. I don't mean room size either... I mean the fact that we have a bassinet, some clothes, and diapers... and that's it. In the grand scheme, I suppose that could get us by for a minute.
Here's what I'm talking about...
My current diaper stash.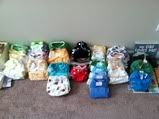 My naked nursery + bassinet (which won't even stay in here!).
View of closet from windowed wall side of nursery.
We're not painted, we're not furnitured, nothing! I'm a planner and this lack-of-a-plan is not working out. In my dreams I have the whole nursery finished so that I can tackle the other areas of my life to get ready for nugget's arrival. I know I have a few months (like, um, 3), but that honestly sounds super short. Ohmygosh, that's SO short!!!
Aside from not feeling prepared, I am SO excited to have this baby. I can't imagine what he'll look like. Will he look more like me or Adam? Will he have light hair or dark hair (or no hair)? Blue eyes or green eyes? Will he help turn me into the morning person I wish to be? Will he be a good sleeper? Will he be Lucy's best friend? I just can't wait to find out!